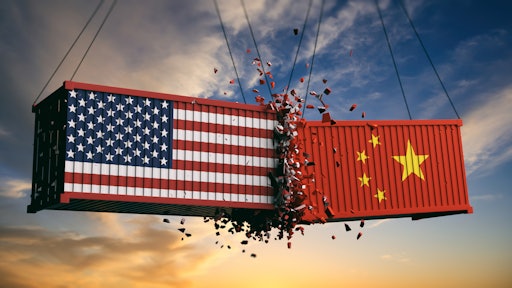 Getty Images
The tit-for-tat trade war between the United States and China is entering its 16th month, with no signs of slowing down.
Tariffs continue to disrupt supply chains, with more than one-quarter of multinational firms not having a contingency plan in place, according to a recent survey from DHL Resilience360.
Of the respondents, 48% from the engineering and manufacturing industry, and 40% from the automotive mobility sector said that they have no contingency plans despite that the trade war has heavily targeted both sectors.

"We're now dealing with such a new frontier that most supply chain professionals have not encountered this before and its so new that I think a lot of people are struggling to even understand what they can do to deal with it," Shehrina Kamal, product director for risk monitoring at DHL Resilience360 said in a statement.
For the companies that have decided against moving production out of China, several said that they were unaffected by the trade war. However, 43% have long-established connections with Chinese factories and suppliers. Meanwhile, 8% of respondents expect the tariffs will be removed eventually.
Though, the 12% of respondents that have shifted operations have faced challenges such as lack of skilled labor, heavy port congestion and maintaining supplier quality. India and Vietnam were among the most popular alternative locations for production lines.