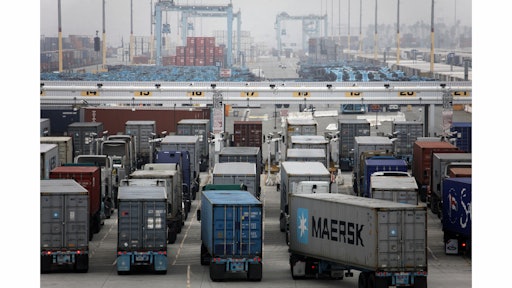 March 17, 2016—Business groups that depend on shipping goods through the U.S. West Coast are calling on dockworkers and employers to extend terms of their labor contract to avoid a repeat of the congestion that plagued supply chains during the most recent negotiations, according to The Wall Street Journal.
"Agreeing early to a long-term contract will provide the stability and predictability our collective members need, while protecting against any self-inflicted harm to the broader U.S. economy," said the letter signed by more than 100 retail, manufacturing and other groups that was released.
Last February, after a tense nine months of talks, the International Longshore and Warehouse Union (ILWU) signed a five-year contract with the Pacific Maritime Association (PMA). Dockworkers and port employers still dispute which parties were at fault for the bottlenecks that ground cargo movement to a near halt during the negotiations, but importing and exporting companies say the disruptions cost them business. "The costs were enormously high … We cannot afford a repeat," the letter said.
The plea comes after presidents of the ILWU and the PMA said at the recent Trans-Pacific Maritime conference organized by The Journal of Commerce they would consider extending the current contract. That informal ascent came in response to a question at a public panel, and many customers of shipping lines and cargo companies remain skeptical that the officials will follow through.
To read the full story, please click here.