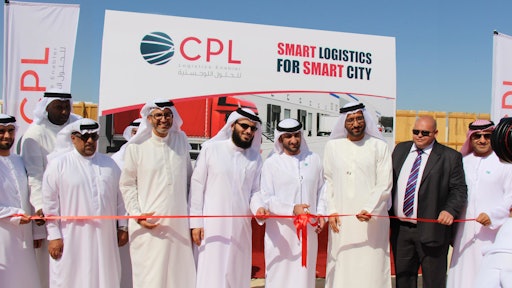 Dubai, UAE—Feb. 10, 2016—Centre Point Logistics (CPL), a provider of logistics, warehousing and storage facilities, is set to strengthen its regional and global market foothold further with the upcoming groundbreaking of its new state-of-the-art warehouse at the Logistics District in Dubai South.
The 22,550-square-meter facility slated to be opened in October 2016 reflects the company's ongoing initiative to widen its reach, and capitalize on the many opportunities in the rapidly growing logistics activities in Dubai and the rest of the UAE, considered the gateway to the world's most progressive markets such as Africa, India and China.
CPL's latest ambient temperature-controlled warehousing space will offer a wide range of integrated logistics support services, from warehousing, transportation, technical and skilled labor to equipment and other operations management. It will be used for storage, distribution and other value-added services.
With current total logistics investments of over 100 million in UAE Dirham (AED), and a warehouse and distribution space of over 3 million square feet, CPL's turnover is expected to increase to around AED 50 million per year upon the opening of its new facility.
Ahmad Al Ansari, deputy chief operating officer at Dubai South, said: "CPL's significant investment into its new facility will further enhance the organization's operational efficiency, and increase its market share and revenues in the long term. The strategic move comes at an opportune time in that it addresses a growing need for solid logistics infrastructure to support the advancing global logistics sector. Dubai South's Logistics District presents the ideal platform to facilitate CPL's regional growth strategy and we look forward to a mutually rewarding partnership."
The UAE is witnessing growth in international cargo alongside the expansion of the entire Middle East, where the regional demand is expected to increase by 4.9 percent by 2016. An industry report released by Transport Intelligence also predicts a 7.8 percent annual expansion of the Middle East's freight forwarding sector until 2017. In the UAE, the domestic logistics market is valued at AED 92 billion.
Saleh Abdullah Lootah, CPL chairman, said: "Through our new warehouse facility, CPL, in partnership with Dubai South, will significantly widen its geographical reach to provide high-quality services to a larger customer base across the world. Our expansion complements Dubai's tremendous economic development over the years, enabling us to support the Emirates' growth, while taking advantage of new opportunities in both local and international markets. Today, Dubai is considered a significant player in international trading and transport logistics, and this will mean more profitable prospects for leading industry players."
Companies in this article