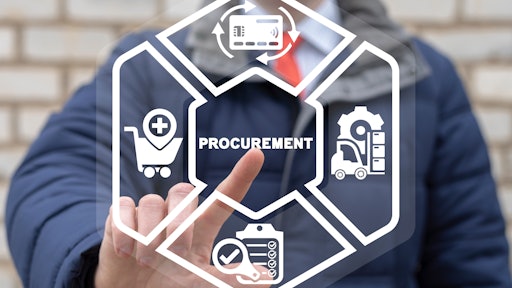 wladimir1804/stock.adobe.com
In today's raw material procurement landscape, organizations must navigate operating environments marked by unpredictability and volatility. Over the past 18 months, a convergence of factors –geopolitical tensions, supply chain congestion, instability in the Black Sea Region, demand fluctuations and extreme weather events –led to unprecedented price volatility across commodity markets. This turbulence has left manufacturers vulnerable, especially those whose operations and profitability rely on secure access to raw materials, efficient logistics and price stability. As a result, businesses are struggling to anticipate the trajectory of material prices in the near or distant future.
Traditionally, many raw material procurement businesses have not invested in strategies for mitigating raw material price volatility – including in the cohesive data management integral to this. Instead, they typically relied on long-term fixed-price contracts, incorporating risk premiums into consumer prices or implementing rudimentary hedging strategies. Most manufacturers use Enterprise Resource Planning (ERP) software to optimize their day-to-day operations, consolidating functions like finance, procurement, inventory, and manufacturing into a unified platform. While cost-efficient, ERP systems primarily focus on accounting functions rather than market tracking and proactive risk management, leaving organizations vulnerable to fluctuating commodity market prices.
Approaches previously considered 'failsafe' have proven inadequate in today's volatile and rapidly changing market. Global retail markets, formerly considered stable, now exhibit increasing levels of instability in relation to price elasticity. Deloitte reports that increasing price elasticity is impacting the ability of 56% of surveyed companies to achieve sales growth in 2023, leaving them exposed to more significant financial risks. Meanwhile, 52% believe they cannot raise prices without materially affecting demand, making it harder to maintain healthy margins. Sales growth obstacles, driven by changing consumer preferences and heightened price sensitivity, limit market expansion and revenue generation. In an era of streamlined supply chains where shifting costs to end consumers is proving increasingly unviable, efficient procurement processes play a vital role in securing raw materials, maintaining cost-effectiveness and upholding product quality.
To maintain stable financial margins, sourcing organizations require complete transparency into the cost of production and underlying price risks. Meanwhile, manufacturers must manage intricate pricing agreements, supplier contracts, plant requirements, and spending, requiring complete portfolio visibility, and exposure control. Whether in the food and beverage sector or car manufacturing, production changes – such as fluctuations in the quantity, type, or timing of raw materials – can profoundly impact raw material procurement and hedging strategies. For example, shifts to just-in-time manufacturing require more flexible procurement practices to reduce excess inventory and costs. Similarly, changes in the use of alternative materials can impact the correlation between raw material prices, requiring adaptations in hedging strategies through derivatives, forward contracts, or supplier diversification. The relationship between production changes and raw material procurement is dynamic, demanding an evolving approach to managing price risks associated with raw materials.
Forward-thinking raw material procurement businesses are upgrading their procurement systems to manage margin risk more effectively. Economist Impact notes that in 2023, the top priority for businesses to address supply chain challenges is to adopt technology that increases supply chain visibility (63%), followed closely by digitally transforming supply chains (57%).
Organizations deploying Commodity Management Solutions (CMS) with ERP systems are leading the charge here, the combination of which can consolidate physical raw material coverage and financial commodity price coverage across the value chain. Such integration enables the automatic adjustment of processes and data-driven decisions throughout an organization's supply chain, including inventory management, production planning, scheduling, and raw-material procurement, in response to forecasted changes in demand.
Optimizing legacy procurement systems through CMS and ERP integration offers significant advantages. Using technology to streamline routine procurement tasks reduces manual intervention and enhances procurement efficiency. Most importantly, it enables data-driven decisions by providing complete visibility into spending, storing, forecasting, hedging needs, and supplier contracts - all in one platform, accessible 24/7. It also drives better decision-making by uncovering cost-saving opportunities for sourcing organizations, such as optimizing spending and supplier selection. Enhanced visibility into financial data improves the bottom line and ensures strategic resource allocation, aligning procurement seamlessly with broader financial goals.
Integrated digitization enhances a company's ability to manage the risks associated with market fluctuations. It enables real-time monitoring of market changes and provides forward-looking insights into raw materials, packaging and energy expenses. CMS platforms enable proactive monitoring of a sourcing business' operational and financial coverage, and a clear view of potential disruptions, allowing for agile hedging strategies and flexible budgeting models. Unlike traditional manual methods such as Excel, or solely using ERP platforms, an integrated approach offers the agility to assess exposure to market fluctuation and supply chain disruptions rapidly. When every penny counts, anticipating and adapting to market volatility can make all the difference in mitigating commodity price risk and safeguarding a business's bottom line.
The turbulence in global supply chains over the past 18 months underscores the need for businesses to rethink their procurement and risk management approaches, especially those in the raw material sector. Traditional legacy methods that rely on outdated manual processes or a sole dependence on ERP systems can no longer keep pace with the specific challenges of commodities. Technology vendors are increasingly poised to support procurement businesses across the entire raw material procurement lifecycle, offering real-time visibility into positions, exposure coverage analysis, and profit margin forecasting. Ultimately, these procurement and risk management improvements will bolster resilience and profitability across the supply chain. Embracing innovation is no longer optional; it's necessary to build business resilience and safeguard bottom lines in the face of ongoing market turbulence.