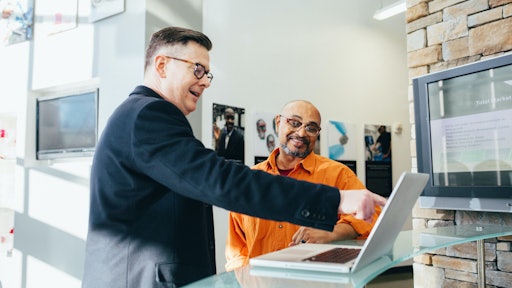 Pexels
Three years ago, Accenture reported that an overwhelming majority (70%) of industry professionals predicted supply chains will be the major factor in improving customer service by 2020. They were right then and even more right today. Today's global, digital, and networked world puts a premium on continuous business transformation that is fast, agile, and resilient. Supply chains – and the ability to build, manage and adapt them to ever-changing global environments – are the key to achieving all three.
The Coronavirus disease (COVID-19) global pandemic has put all this to the test, impacting the production and availability of everything from critical medical equipment to consumer goods to agriculture. The shock has been great, but so is the opportunity. Companies can use this moment to fashion supply chain strategies that help enable and accelerate business transformation even in times of uncertainty and volatility.
COVID-19 is a reminder for the need of two supply chain strategies. Successful businesses understand the need for both. First there is the purposeful or proactive strategy designed to help accelerate transformation already underway. The other is the involuntary, or reactive strategy designed to help adapt business transformation to changing conditions. Again, the COVID-19 pandemic has highlighted the need for organizations to pursue and aggressively implement both simultaneously.
Purposeful supply chain strategy is based on elements that can be reasonably measured, predicted or controlled. It is about integrating the design and maintenance of the supply chain into the overall business strategy. The three keys to purposeful transformation are automation, integration, and convergence.
· Automation. This is primarily the use of technologies such as robotic process automation, machine learning, and process mining and applying them to procurement, warehousing and quoting in order to accelerate short-term efficiency, growth and customer satisfaction.
· Integration. This is the ability to simultaneously execute a blend of proven supply chain technologies (often referred to as the Mode 1) with those that are more innovative and experimental (Mode 2). The former focus on making the status quo more reliable and cost-efficient. That latter is designed to increase flexibility, capitalize on emerging technology trends and deliver differentiated customer experience.
· Convergence. This is using the supply chain to facilitate communications between suppliers and customers. When done correctly, the design, structure, and operations of a supply chain can tap into and direct the knowledge and power of a business ecosystem to improve customer experience, while increasing efficiency and profitability.
Involuntary supply change strategy is all about dealing with the things you can't plan for. Things like COVID-19. In these situations, keys to performance are transparency, assurance and agility.
· Transparency. This is the ability to use your supply chain platform to "see" sequestered inventory around the globe. When inventory is "visible" on your supply chain platform, you have the ability to rapidly move supply and manufacturing from one site to another.
· Assurance. A function of demand planning, assurance is typically based on things such as component lead time, short-term forecast horizon commitments, and more macro long-term trends. To assure supply, a good supply chain platform should be able to facilitate demand planning and have the ability to discriminate between commodity elements and those strategic and "hard to get" elements.
· Resilience. A supply chain platform's transparency and assurance are the keys to its agility and resilience. If you know the "where" and the "how many" and the "what's critical" you are now able to move quickly to identify and prioritize manufacture and procurement with the highest quality from the most reliable partners.
The current pandemic has highlighted the need for businesses to continually rethink, reevaluate and, when necessary, transform their business model. To do so, they need a supply chain that is fast, agile and resilient. By implementing both purposeful and involuntary supply chain strategies, companies can better position themselves for the unexpected and successfully navigate the months and years ahead.