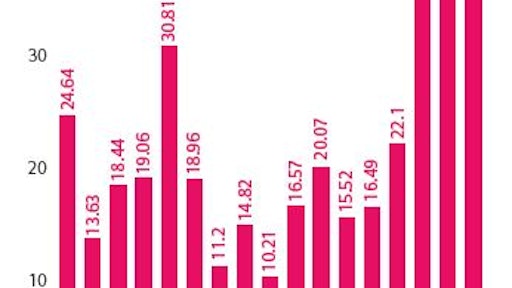 The potential for more expensive liability losses is increasing, particularly in relation to global product recalls, according to a new report by Allianz Global Corporate & Specialty (AGCS). The report, entitled Global Claims Review: Liability in Focus, identifies defective product or work as the largest causes of liability loss for businesses after analyzing over 100,000 corporate liability insurance claims from more than 100 countries, with a total value of $9.3 billion, paid by AGCS and other insurers, between 2011 and 2016.
With complex global supply chains and large numbers of products and suppliers being concentrated on a smaller number of larger companies, product liability and recall claims are becoming larger and more challenging to settle. For example, U.S. automotive recalls hit a record high for the past three years in a row, culminating in the recall of around 53.2 million vehicles in 20161. And the estimated cost to date of the Samsung Galaxy Note 7 smartphone recall following battery issues is over $5 billion2.
One of the major cases that dominated the headlines is the massive recall of potentially faulty airbags made by Japanese manufacturer Takata. According to the National Highway Traffic Safety Administration (NHTSA), some 42 million vehicles will be affected, impacting 19 automakers to date3. The corporation agreed to plead guilty to criminal wrongdoing and pay approximately $1 billion to resolve a U.S. Justice Department investigation into ruptures of its air bag inflators4.
This upward trend is mirrored across Europe as well. According to Stericycle Expert Solutions, the total number of automotive recall events in 2016 was 415, a jump of 76 percent over 2015 and the highest total recorded since the European Union's rapid alert system (RAPEX), which warns about non-food products that pose a risk to health and safety, began. Unsurprisingly, the top country for auto recalls was Germany, given the emissions testing issues experienced in the sector.
Meanwhile, pharmaceutical liability and recalls also continue to generate large claims. For example, the U.S. saw a rise in claims against pharmaceutical companies over suspected links between talcum powder and ovarian cancer, as well as a potential source of asbestos. In three separate cases during 2016, juries awarded $72 million, $55 million and $71 million, respectively, to plaintiffs in talcum powder cases tried in Missouri. As of October 2016, there were believed to be around 1,700 similar lawsuits in state and federal courts5.
Generally, the number of recalls is steadily rising with increased focus on product and workplace safety, as well as more proactive regulation. With an increasing proportion of goods now manufactured in Asia, product liability claims are becoming a significant driver for large liability claims from China.
In 2015, China accounted for 2,124 product recall cases in the U.S., followed by U.S. companies at 685.6 China accounted for 62 percent of the product safety alerts issued by the European Union in 2015.7
The food and beverage industry is particularly exposed to recalls. In the U.S., recalls rose 12 percent to 246 during the fourth quarter of 2016—the highest since the first quarter of 2010—with bacterial contamination the major cause. In Europe, the number of recalls/notifications in the fourth quarter of 2016 also increased by 12 percent to 787—the highest for two years8. Contaminated products insurance can protect businesses against financial losses resulting from the recall of a product following either accidental or malicious contamination.
Growing supply chains, tightening of safety regulations and faster dissemination of information are all factors in the increasing number of incidents, which can have a devastating impact on a company's reputation. However, if a recall is professionally managed, it can help to minimize damage.
Footnotes
U.S. Auto Recalls Hit Record High 53.2 Million in 2016, Reuters, Friday, March 10, 2017
Samsung Says Galaxy Note 7 Recall to Cost at Least $5.3 Billion, thestar.com, October 14, 2016
www.nhtsa.gov, National Highway Traffic Safety Administration
Takata Pleads Guilty, Pays $1 Billion in U.S. Exploding Airbags Fine, Financial Times, January 13, 2017
J&J Loses Third Trial over Cancer Link to Talcum Powder, Bloomberg, October 27, 2016
Consumer Product Safety Commission
Toys and Clothing Top the List of Dangerous Products Detected in 2015, European Commission
Stericycle Recall & Notification Index, Q4, 2016
Companies in this article