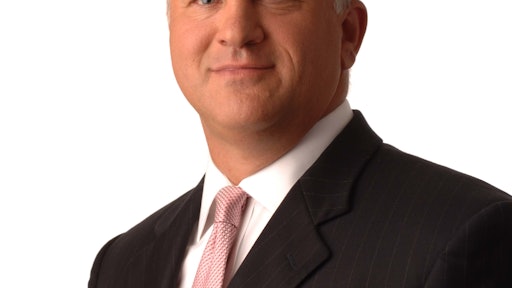 The labor dispute at West Coast ports earlier this year is prompting both vendors and retailers to rethink their supply chains. Many companies had difficulty getting their goods on time and the ripple effects are being felt throughout the U.S. economy.
As retailers begin to report quarterly earnings, the financial impact of the dispute is coming into focus. Two major retailers—Bed, Bath & Beyond and Macy's—both noted that the port dispute contributed to lower-than-expected profits in the latest quarter. While we still don't know all the details, it appears that retail seasons were missed and some retailers had to resort to discounts to move goods delayed by the dispute.
Fortunately, West Coast dockworkers recently negotiated a five-year contract that ended the nine-month standoff and avoided an even bigger problem: the total shutdown of 29 ports that are crucial to global trade.
Even so, more than 15 million loaded container 20-foot equivalent units (TEUs) are shipped through West Coast ports each year. In fact, the Los Angeles/Long Beach area is the busiest container port complex in the nation and represents the primary gateway for trade with Asia. Thus, the disruption of these ports' normal operations already had significant spillover effects.
At the height of the impasse, cargo ships arriving from Asia were anchored offshore for days and containers that managed to make it to shore were stacked up waiting to be loaded on trucks for delivery. The slowdown quadrupled typical container processing times to more than 20 days, sometimes leaving retail customers without products to sell.
Footwear to Furniture Affected
Now that the dispute is resolved, dockworkers are beginning to make their way through the backlog, but the lag continues to have financial repercussions. More than 12.5 percent of the U.S. gross domestic product is tied to cargo moving through West Coast ports. The facilities support more than 9 million U.S. jobs with a domestic business impact of $2.1 trillion.
Retailers and vendors of seasonal goods were particularly vulnerable to the effects of the slowdown. Sellers of everything from footwear to furniture could see their profit margins decrease. Goods that were due to arrive ahead of a particular shopping season are now arriving late, which may cause retailers to discount them. For example, a retailer that ordered patio furniture to arrive in March missed the prime months during which people typically buy outdoor furnishings. Such retailers may have to mark down the products to sell them later in the summer. Some purveyors of perishable goods face even greater challenges.
A few companies, of course, benefited from the delays. Discount retailers such as TJX, which owns TJ Maxx, Marshall's and HomeGoods, bought up unwanted or out-of-date inventory from the cargo backlog.
Rethinking Supply Chain Strategies
Although labor disputes are nothing new in the world of cargo transport, the duration of this standoff and its lingering financial effects caught the attention of retailers and their suppliers, especially those that relied on a single point of entry for goods to keep supply costs low. Now, big retailers may look at other options, such as splitting their supply networks among multiple ports of entry, or they may bring goods in earlier and warehouse them in the United States.
Both of these options could cause consumer prices to rise. Using multiple ports can increase logistics-related costs and may require additional overland trucking expenses to move goods to their final destination. Warehousing requires vendors and retailers to pay the cost of holding inventory rather than their overseas manufacturers.
The result is a shift in capital spending and, because the goods may be held in a warehouse until they are delivered to retailers, vendors and retailers may have to borrow money for longer periods to cover the earlier payments.
For smaller companies, the effect may be even more challenging. Some may simply be unable to afford diversifying their supply chains or their flow of goods may be too small to warrant such a step.
Many companies began importing goods through Los Angeles and Long Beach because doing so made the most economic sense. If that is no longer the case, some may revisit their supply chain strategy. Others may consider bringing more manufacturing back to the United States, although that strategy would take time and require sizeable capital investments.
Avoiding the Next Crisis
For now, the bottlenecks at West Coast ports eased, but retailers and vendors are likely to take heed of the message sent during the past nine months. Some now feel that their supply chains are vulnerable to disruption, which may prompt them to revisit both the sourcing of their goods and the ports through which they import them.
Retailers and vendors have a better understanding of the potential risks of relying on delivery schedules at any particular port. As such, the need to ensure adequate supplies may cause them to consider more costly supply chain options. While no company can plan for all disruptions, the lingering effects of the West Coast port dispute shows many retailers and vendors the benefits of getting ahead of supply chain issues before they result in lost business.
Some already found that operational changes and consistent communication can help smooth over delivery delays, and help earn customers' trust and sympathy. In the future, companies that are able to expand their lists of go-to suppliers, diversify their shipping routes and use technology to enhance their logistics planning can significantly improve their readiness, and avert or, at least minimize, the financial impact of future labor disputes at our nation's ports.
Jon Lucas is the president of CIT Commercial Services, a provider of factoring and financing to consumer product companies. Lucas spent his career developing financing solutions for companies in all stages of the business cycle. Prior to his current position, Lucas held various positions including chief sales officer, regional manager and sales manager. To read more about the factoring and financing solutions offered by CIT Commercial Services, please visit cit.com/commercialservices.