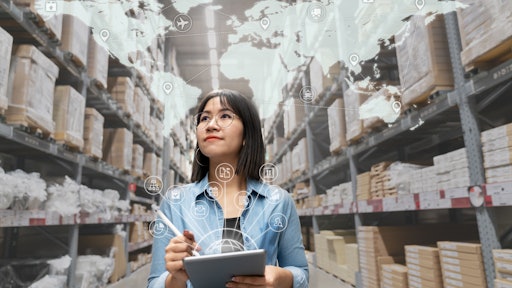 Chaay_tee/stock.adobe.com
Supply Chain disruption has been front and center in 2021 and shows no sign of dissipating in 2022. Port congestion, equipment and labor shortages have dominated the headlines, resulting in organizations scrambling to build resilient supply chains to combat the ongoing disruption. McKinsey identified that 92% of global supply chain leaders planned to change their supply chain footprints to boost resilience.
However, due to the complexity of the problem, there is no magic bullet to strengthen supply chains. And as organizations embrace the mantra, expect the unexpected, it's vital to take steps to alleviate the risk and increase agility. So, enterprises must deploy a mix of strategies and tools to help insulate them from falling victim to the ongoing supply chain disruption.
Below are four recommendations that companies should consider in order to create a resilient supply chain.
1. Build business continuity plans with all suppliers
With disruption almost a certainty, it's vital to put in place plans to mitigate the risk with every supplier. To do this requires adopting a diversification strategy across the entire supply chain. In addition, you need to determine what you can and cannot control within the supply chain so you can implement a plan to deal with the components you are able to influence. Rather than relying on one primary supplier for key parts, organizations should increase the number of suppliers, and add more shipping methods and points of entry for goods to spread the risk.
Another essential part of planning is increasing safety stock levels so that organizations have more time to react to disruptions. Shippers should ensure that suppliers have continuity plans in place and review them at least annually. These plans should outline potential hazards and detail how they will respond to the anticipated events.
2. Increase the pace of digitization
Digital transformation is vital to provide the visibility needed to create more resilient supply chains. Companies need to be able to respond quickly to whatever issue they encounter through early detection and then be able to take appropriate action. As organizations deploy sensors and IoT devices it will eventually enable them to track everything across their supply chain in real-time. The data generated will help organizations to anticipate and see where problems are occurring earlier, enabling them to be more agile and react more effectively when the inevitable disruption occurs.
Another benefit from digitizing is that the visibility over time provides businesses with the insights to understand potential exceptions with suppliers and manage them to mitigate the impact. By learning more about demand, they can make more informed decisions. Without infusing technology across supply chains, it's impossible to manage the complexities and provide increased agility.
3. Integrate innovative technologies
In addition to digitizing, organizations must continue to evaluate emerging technologies that will help build resiliency and increase efficiency. Rather than viewing technology as a cost, companies need to see it as a strategic investment that helps increase automation and provide more visibility into the supply chain.
For example, innovative technologies like AI can automate more of the planning process. With AI's ability to learn and predict, organizations can better manage unexpected events helping boost resilience.
Additionally, robot automation is now starting to be more widely deployed in warehouses as organizations look for ways to improve efficiency and help alleviate some of the current supply chain issues stemming from labor shortages. The shift to embrace more automation in the warehouse will likely continue in the coming months and years.
4. Improve shipping efficiency
2021 shone a spotlight on how shipping has negatively impacted supply chains. From congestion to vessel capacity to a shortage of workers due to the pandemic, shipping is a significant bottleneck. With costs soaring month over month, shippers need a way to balance costs and improve reliability.
Diversifying shipping strategies injects more flexibility, allowing organizations to manage demand fluctuations and inevitable disruptions. To increase resiliency, organizations must evaluate different modes of transport, differentiated/premium service offerings, various ports of entry, and lastly, the contract performance of logistics partners.
For carriers utilizing technology to optimize space, planning can deliver efficiencies, reduce waste and improve allocation management during seasonal peaks, all of which contribute to more robust supply chains.
The supply chain outlook
Supply chain snarls seem inevitable for the foreseeable future. The current chip shortages, congested ports, reduced inventories, high demand for goods and a dearth of truck drivers will undoubtedly be replaced by new woes, so organizations must seek ways to make the end-to-end supply chain as resilient as possible. In addition to strengthening the supply chain, these steps deliver efficiency gains and potential cost savings. It's clear that doing nothing is no longer an option for those hoping to survive and for those looking to thrive, fortune will favor the brave.