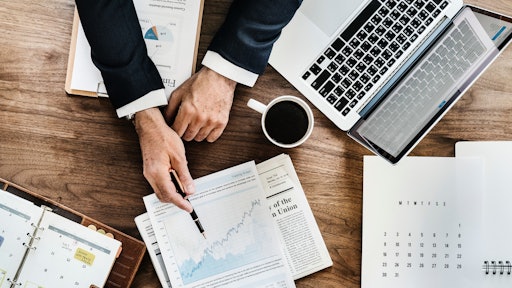 Pexels
Online sales are exploding, and sometimes it's in a mushroom cloud of customer frustration. If someone orders a big screen TV for a super bowl party only for it to show up a week later, there's a good chance that they won't be a returning customer. E-commerce needs to be done right.
Prepare for e-commerce challenges but strive for success
When selling online, you have the advantages of direct-to-customer communication, enhanced brand control and higher margins. Though, you are faced with a new set of challenges. Unless your business is solely online, channels conflicts will develop and will need to be managed. This means creating a profitable and equitable balance between OEMs, wholesalers and retailers, while introducing a new distribution approach. E-commerce also creates significant changes within the organization, as traditional relationships and workflows between individuals, teams and external partners change.
Why should your target audience buy on your site?
Developing a real USP in e-commerce requires a serious commitment to understanding your customer's experience. When executed well, it can bring game-changing results. In addition to clear and realistic objectives aligned to an overall business strategy, a successful move into the e-commerce channel also requires a clear understanding of your company's unique path. The nature of each step along the path will depend on the purpose of the e-commerce project. Leaders often lack a full appreciation of the difficulties and requirements involved with e-commerce. Time, financial resources, effort and talent are frequently underestimated in the budget.
Traffic is the top of your sales funnel
It's a safe bet that with little or no traffic on an e-commerce site, there will be few or no sales. No matter how good the product or content is, the challenge is to get traffic. Seems simple? It isn't. A solid brand is not enough. Customers need a reason and way to come to the site that is different and better than those of the alternatives. At this point you can choose one of two different solutions, or a combination of both. First, build traffic on your branded e-commerce site. Then use attractive pricing and easy-to-use websites to turn visitors into buyers. Alternatively, partner with established marketplaces that deliver substantial traffic, but eat into your margins.
Think fast, not big
The best e-commerce sites start small and develop into major revenue sources. By being fast, inexpensive and low risk, if a mistake is made it is much easier to fix. There is a tendency in many large organizations to go big early, potentially increasing risks for embarrassing, costly and career-ending missteps. The e-commerce environment moves fast. A big corporate project can never keep pace and is often obsolete the moment it is launched. A successful approach could be phasing geos and product segments with a clearly defined and transmitted USP.
Get the boss's buy-in or prepare to fail
Selling your goods online has an effect on sales, marketing, logistics, finance and technology. It is a strategic decision with a long-term strategy building up new channels that require attention and support from the C-suite by understanding their business goals and their concerns. Their feedback is invaluable. Getting the buy-in from the senior management is not a one-time event. It is an ongoing task that requires substantial resources and stakeholders from project kick-off to launch and beyond.
Maybe I should DIY this thing?
Manufacturers should look at the "make-or-buy" decision and immediately reject this as an alternative. Unless this capability already exists within your business, don't waste your time and money building it yourself. With online sales, the stakes are higher because of social media reviews.
Once the business objectives are nailed down, the building blocks of your e-commerce and fulfillment set-up can be assembled with the guidance of a partner. A good e-commerce and fulfillment partner will guide your company through the development process and ensure that your online solution delivers the predefined USP and meets your requirements.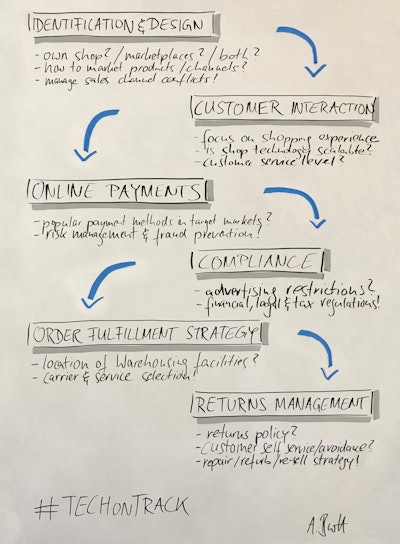 In a nutshell
To be successful in e-commerce, focus on the business fundamentals and on aligning these at all levels of your organization. Make up your mind about the questions outlined in the scribble below and focus on the appropriate partner who will take care of the execution.