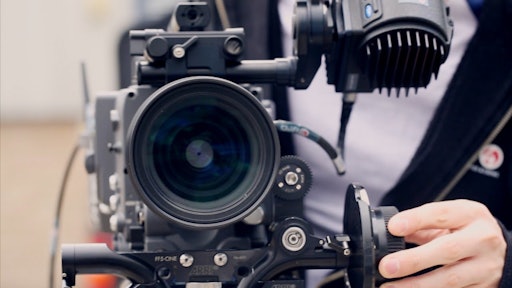 President and founder of Infratab, Stanton Kaye, first made a name for himself when he was just 20 years old. Except it wasn't as an industry leader in smart sensors and software; it was as a movie director. 
His writing and directorial debut with Georg, the story of a German WWII veteran and émigré to the United States, earned him critical acclaim at a young age. The movie went on to earn first prize at the Los Angeles Film Festival and the United Nations Award due to its unconventional camera style.
"I wasn't very skilled. I had an idea, and I wanted it made in a certain way. I didn't care what the standard way of making a film was—I made it my way," Kaye says.
After making a mark with his first film, Kaye studied to become a more "conventional" director. He discovered he could use his craft in a more skilled way by using proper equipment and production. Just three years after Georg was released, Kaye began production on his most well-known project, Brandy in the Wilderness, a fictionalized account of his relationship with aspiring artist Michaux French, starring themselves.
Brandy in the Wilderness earned Kaye several awards and was selected for the National Film Registry in 2013 for being "culturally, historically or aesthetically significant." The film was also honored at the prestigious Cannes Film Festival three different times.
"With the reopening of Cannes this year, they opened with my film in the Cinema Tech Francoise. It was in celebration of the history, because it was one of the famous films of that period. The print was restored by UCLA and the Academy of Motion Picture Arts and Sciences; it had great sound, and it looks fantastic," Kaye says.
In the years after making Brandy in the Wilderness, Kaye gained an interest in philosophy and science, eventually making a transition from behind the lens to behind a desk. His next great role would be as president of Infratab, a manufacturer of smart sensors and software, though he says the responsibilities are not so far from those of a director. He sees similarities between light and time and heat and time. For example, temperature and time are important for the company's Freshtime technology platform, which securely monitors, tracks and traces the condition of perishable goods.
"I'm not a philosopher; I'm a logistics guy. I'm the president of a company that measures time and temperature. I came out of light across time and came into heat across time," Kaye explains.
Even though he is now in a more corporate setting, Kaye still finds himself behind a camera from time to time. Most recently, he directed a short video on food waste and plans on making e-learning training videos for Infratab.
Throughout all of the acclaim, though, one thing still remains vital to Kaye in both his professional and personal life: love. He urges those who want to start a business to go where they will be happy and somewhere they love going.
"The most important thing is love, and whatever is going to sustain love is what you should be doing," he says. "There's nothing more rewarding than that. No amount of achievements or awards will be equal to that."