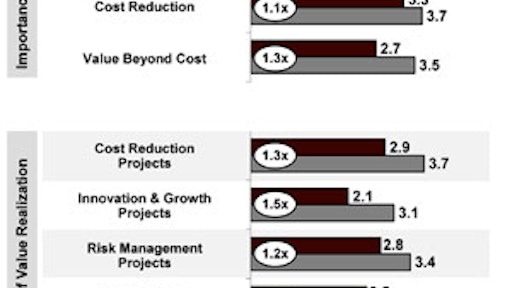 "If I could change one thing in my career,
it would be the attention paid to internal stakeholders
and their ultimate satisfaction. This is what makes one's reputation."
— R. David Nelson, retired chief procurement officer from TRW, Honda, John Deere and Delphi, speaking at the A.T. Kearney Center for Strategic Sourcing Leadership, March 2010
The above words by Procurement living legend Dave Nelson points to an important, yet sometimes overlooked, aspect of Supply Management leadership. Today's CPO requires as much sales savvy, people prowess and "marketing mojo" as he or she does supply chain skill. At the risk of too much functional self-aggrandizing, Supply Management is at the nexus every business' income. They select and manage the suppliers that corporations rely upon for innovative ideas, quality products and services, and prompt delivery. They are responsible for an increasing majority of the costs incurred by the organization, and they are one of the few functions whose role actuates interactivity with other functions across the enterprise.
A select group of Supply Management leaders understands this inter-dependency and connectivity and, more significantly, the role teaming plays in driving collaboration and assuring success. These leaders become invaluable, networked executives, capable of further growing their influence. In some cases, they step into larger roles outside the traditional boundaries of Procurement. The following article explores how these select leaders place themselves in the center of corporate strategy and consequently propel their careers and the Supply Management function forward.
A Case for Crossing Functions
Many factors shape a CPO's agenda. The most recent A.T. Kearney Excellence in Procurement (AEP) Study shows CEOs are increasingly asking more of Supply Management and its leaders. CEOs report the importance of "cost reduction" to the overall organization would increase 10 percent in the future, compared to an increase of 30 percent for "value beyond cost." More specifically, chief executives expect Procurement to step up its role in innovation and growth, value chain optimization, sustainability and risk management — in addition to the ever-present need to reduce costs. (See Figure 1 at right.)
Each objective presents unique opportunities for Procurement and supports the argument that Supply Management must be leaders at teaming as an imperative for the function's future standing. The following exemplifies various scenarios where teaming becomes key:
If the mission is Innovation, Procurement must...
Align closely with Engineering, Marketing and R&D — developing liaisons from those areas and coordinating interaction at all levels — even temporary assignment into those areas.
Understand the roadblocks to innovation — both internal (qualification and testing time/cost) and external (raw material costs, rigid specifications) — and aim innovation workshops at solving these.
Incorporate innovation into supplier selection, KPIs and scorecarding — and overall category strategy.
If the mission is Value Chain Optimization...
Work with Engineering, Logistics and Manufacturing for direct materials, and with functions like Marketing and HR to understand the complete value chain for key goods and services.
Model costs to understand conversion value at each step.
Leverage collaborative optimization techniques to unbundle traditional, category-oriented value chains to allow suppliers with extended capabilities to expressively offer new value chain bundles.
Stay close to Business Development/Strategy when acquisitions are in play to help size the value in due diligence and execute quickly on synergy savings.
If the mission is Sustainability...
Understand the corporation's commitments to social and environmental responsibility.
Be ready to work with Sales to represent the ways in which your firm supports the sustainability goals of your customers.
If the mission is Cost Savings...
Develop a plan to communicate the cost savings initiative to the organization. A communication plan must have a goal, and its success must be measurable.
Create category councils with cross-functional stakeholders and establish recurring meetings to discuss costs savings or process improvement opportunities.
Establish clear definitions and guidelines with Finance on what constitutes "hard" and "soft" cost savings.
If the mission is Risk Management...
Create a risk management function if it does not exist. Don't think you need one? Just ask yourself, how many suppliers are qualified for your top products? How many days of supply do you have on hand? Do you know who your suppliers' suppliers are? Or just read "Fooled by Randomness" or "The Black Swan" by Nassim Nicholas Taleb. This group needs to work very closely with Treasury. Some companies have a risk committee with representatives from multiple functions that meet monthly to review exposure and mitigation plans.
Clearly, focusing on any one or two of these initiatives has Procurement collaborating with individuals from all over the corporate organization chart. You think teaming is important?
Five Techniques to Engage the Organization
1. Tight Ship
"'Total Customer Satisfaction' drives everything we say and do..."
— Brad Holcomb, CPO, Dean Foods
First and foremost, procurement leaders need to earn their stripes. Unfortunately, experience often is earned through turmoil, failed implementation strategies or failed risk management strategies. The most recent AEP Study highlights the importance of managing risk in procurement. Nearly 85 percent of procurement leaders manage risk by defining and measuring KPIs (internal and supply base). To efficiently manage risk, for example, Volvo has adopted several supply chain mitigation strategies by putting the right people and processes in place throughout their Supply Chain and Procurement organization. Running a tight ship requires the development of KPIs, clear processes and risk mitigation strategies to ensure that the organization can support the business.
2. Target
"You need to know what is most important in your company at a given time. Our company was in crisis mode — achieving savings was critical, but we had to do it in a way that was highly transparent and kept our suppliers engaged."
— Shelley Stewart, CPO and SVP Operations Excellence, Tyco
Successful businesses have more than one corporate objective at any given time. CPOs, as well as aspiring CPOs, need to decipher which is top on their CEO's agenda and then develop and execute procurement strategies that aid in bringing this specific objective successfully to fruition.
If the mission of the business is:
Bringing new and innovative products to the marketplace, the CPO must set targets accordingly, focusing on innovation and growth projects or sustainability projects.
Transformation, the CPO should set cost reduction or value chain optimization projects.
Promoting green initiatives, the CPOs should set targets around sustainability and risk management.
On the other hand, if the mission is not clear and perhaps not plastered on the wall, the CPO must align the organization behind "trolling" for value-creating opportunities. Some of the more specific supply management opportunities come from collaborating with other business units such as Engineering or Marketing. One of the best ways to "troll" for value-creating opportunities is to set up category councils, which are typically composed of multifunctional teams such as Engineering, Marketing, Sales or Distribution.
Whether the mission is to emerge from a corporate crisis as Tyco did, build a $2,500 people's car (Tata), bring to market the next great electronic device (Apple or RIM), transform a century-old company amidst changing customer tastes and economic conditions (Ford), harness new markets as consumer demand shifts East (Louis Vuitton) or be stewards of the planet (Patagonia and The Body Shop), Procurement plays a role. The key point in these examples is Procurement's ability to align itself with corporate objectives. This would not have been attainable had they not extended their scope outside of their function.
3. Track
"We communicate our achievements not just in terms of savings, but in EPS impact."
— Lisa Martin, CPO, Pfizer Corporation
Once targets are set and opportunities are identified, it is critical for a Supply Chain executive to build in a process to track progress and benefits. There are many ways to track benefits, but the result of diligent tracking builds credibility throughout an organization and engages Finance as a part of a supply chain initiative. If done properly, diligent tracking will provide a factual platform through which a supply chain executive can tout the performance of all team members involved in the process. Part of successful teaming is celebrating key wins and recognizing all the cross-functional contributors.
4. Talent
"When I meet 'one-on-one' with my CEO, I always bring a team of folks to show off their accomplishments."
— Sid Johnson, CPO Delphi
Whether a supply chain executive is building a new organization or seeking to expand the capabilities of an existing one, identifying talent is yet another technique to engage business leaders. If you are building a new team, it is important that candidates for new positions interview with other business unit stakeholders outside of HR and Procurement. Inviting other business units' stakeholders to interview potential team members will, by itself, help to build the CPO's collaborative reputation and aid in selecting the right candidates. CPOs seeking to expand on existing organizational capabilities can "seed" team members in other areas to build collaboration and cross-functional skill sets. Additionally, CPOs need to make networking part of what they teach their teams, for example, by deliberately creating opportunities for their people to interact with others across the organization.
Building a great team, being a leader in terms of "people development" and exposing talent to great opportunities across the organization earns a supply chain executive a reputation as a net talent creator.
In Closing
Finally, there's one reason for teaming that does not necessarily map to the CEO's agenda for Procurement — managing one's own personal career. There are literally volumes written on the subjects of networking, cross-functional teams, learning organizations, the wisdom of crowds, never eating alone and so on. But in as much as one's success is linked with the quality of your creativity as applied to the issues above, let us leave you with this thought from Nobel Physicist Linus Pauling: "The best way to have a good idea is to have a lot of ideas." And for many of us, the best way to have a lot of ideas is to stay connected to a diverse group people coming at similar problems from different angles.