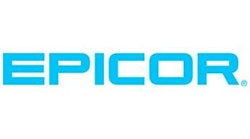 Anaheim, CA November 13, 2002 Epicor Software today used the occasion of its annual users conference to unveil upgrades in the latest release of its e by Epicor suite, with core improvements to its eBackOffice Financials and Distribution applications that the software company said will enable its customers to streamline operational efficiencies while improving the level of service they provide to customers, suppliers and partners.

The e by Epicor suite of applications delivers financial accounting, distribution, warehouse management, human resources, customer relationship management, enterprise services automation, business intelligence and e-commerce capabilities to midmarket companies.

The upgraded financials and distribution applications include improvements to the general ledger, accounts receivable and accounts payable modules, as well as to inventory planning and fulfillment.

Epicor's eDistribution application has been enhanced to further automate the product distribution needs of midmarket companies. New inventory, sales order and purchase order capabilities should help distributors streamline interactions with suppliers, the software company said. For example, when a customer wants to purchase an item that is out of stock, a purchase order will be created directly from the sales order screen in eDistribution, automatically filling in the purchase order with the sales order detail.

The solution provides the ability to view the last supplier an item was purchased from within the inventory maintenance window. With the addition of fields to better facilitate the purchasing and sales functions, eDistribution offers improved support for customers with upgraded sales order and purchase order processing. In addition, inventory available-to-promise and quantity price breaks within the sales order window can help to speed service.

JELD-WEN, one of the world's largest manufacturers of doors, windows, millwork and specialty wood products, has been an Epicor customer since 1997 and a beta partner for the upcoming eBackOffice 7.3 release. "We've depended on Epicor's financial solutions for the past five years to successfully run our multi-site international business operations, and we're thrilled with the added functionality and enhancements available to us with the new release," said Kevin Palmer, assistant corporate controller of JELD-WEN.

The 7.3 release of the eFinancials and eDistribution applications is currently scheduled to be generally available to customers by December 31.