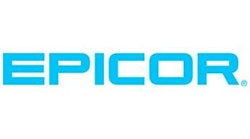 Epicor Customers Gain Ability to Seamlessly Link Between Trading Partners Independent of Technology Platforms and Data Formats

IRVINE, Calif.—Aug. 4, 2003 — Epicor Software Corporation (NASDAQ: EPIC) today announced a strategic alliance with eB2B Commerce, Inc. (OTCBB: EBTB), a leader in business-to-business transaction management services, to offer Epicor's Vista" and Vantage® manufacturing customers seamless collaboration with trading partners (customers and suppliers) and third party logistics providers. eB2B's efficient, cost effective and secure collaborative trading services are used by leading retailers and suppliers like Best Buy, Disney, Rite Aid, Toy's-R-Us and Verizon.

The service offering, called Business Connect EDI (B-Connect EDI), will bring focused and effective supply chain solutions for managing Electronic Data Interchange (EDI) to Epicor manufacturing customers. With B-Connect EDI, Epicor and eB2B fully automate the exchange of trading documents via EDI or extensible mark-up language (XML) through built-in integration with Vista and Vantage. B-Connect EDI lowers the total cost of ownership for Epicor customers, while fully leveraging their existing investment in Epicor solutions.

An Epicor customer since 1998, Nashville-based Tennessee Mat Company, Inc. is already leveraging the benefits of the B-Connect EDI solution to streamline its partner interactions. Tennessee Mat Company is manufacturer and distributor of the internationally known Wellwear brand of matting for industrial and commercial applications.

B-Connect EDI has allowed us to automate our trading partner relationships, resulting in cost and time savings, said Randy Lyles, director of MIS for Tennessee Mat Company. For certain customers we've been able to streamline our order entry process to a virtually paperless system by transferring information directly into our manufacturing system via EDI we've eliminated re-keying of data and duplication of efforts from our business processes.

B-Connect EDI is a hosted, outsourcing framework that enables Epicor manufacturing customers to obtain all of the benefits of a complete EDI program, without the technical complexities, dedicated personnel, software or training. B-Connect EDI is a scalable, reliable, and secure service that enables the streamlined exchange and turned around of documents in the format and communication method that a manufacturer and its trading partners require. Whether that format is EDI or XML, processed via a Value-Added Network (VAN), flat file transfer or system specific API, B-Connect EDI simplifies the EDI implementation process and eliminates duplicate data entry, providing more timely and accurate information to back-end systems.

We're pleased to align with Epicor to create extended value-added solutions for our shared customers, said Richard Cohan, chief executive office of eB2B Commerce. Epicor's Vista and Vantage users will realize immediate benefits from the B-Connect EDI service offering. Epicor's depth of experience in delivering leading edge technology solutions presents an ideal opportunity for capitalizing and building on eB2B's expertise to bring end-to-end supply chain integration services to the midmarket manufacturing industry.

B-Connect EDI has been planned to be considerably less expensive than most in-house EDI programs, because it fully takes advantage of the customers' existing investment in Epicor's manufacturing software. Epicor and eB2B have also developed an implementation methodology that delivers the solution reliably and efficiently, generally within 45 days of project initiation. Additionally, both Epicor and eB2B stay current on the latest releases of each solution, and maintain 24x7 customer support facilities with eB2B's Trade Gateway" products and Epicor manufacturing solutions being fully supported.

We are excited to be able to provide our customers with capabilities that will help them maximize their investment in our manufacturing software solutions, said Rick Borg, senior vice president and general manager of Epicor's Manufacturing Solutions Group. The ability to collaborate seamlessly with trading partners will have a positive impact on our customers business operations and efficiency.

Additionally, Epicor and eB2B also offer a secure Web-based option that offers manufacturers a Web portal for sending and receiving transactions from business partners, B-Connect Web EDI Option.