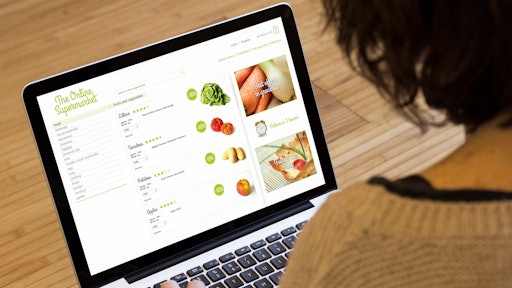 *This content brought to you in partnership with Swisslog*
1. E-grocery as an expansion of the grocer's role
Grocers have always relied on customers to pick their own products. Now with e-grocery, that responsibility is in the hands of the grocer. This shift cannot be overestimated.
Grocers have been able to absorb much of the impact of this change by fulfilling orders from store shelves, essentially using surrogate shoppers to assume the role of customers. But that strategy becomes less viable as order volumes grow. Aisle congestion, labor shortages and slower fulfillment times during peak periods are just some of the challenges grocers face as they attempt to scale manual order fulfillment. Leading grocers have found that automating fulfillment close to customers is the most efficient and scalable approach to meeting growing e-grocery demand and grocers should begin preparing for this possibility early in the process.
As part of this mindset, you need to decide whether or not you will own the process or outsource it to a third party. If you think e-grocery is a passing fad, it may make sense to simply connect into third-party systems for ordering and fulfillment. But if you believe it represents a permanent shift in the shopping habits among key segments of your market, integrating support for e-grocery into your operations is simply a better long-term strategy.
2. E-grocery as a hybrid of e-commerce and manufacturing
When it comes to automation, some grocers (and automation suppliers) have modeled solutions on those used to support e-commerce in other retail sectors. That strategy has had little success because it fails to account for the major differences between e-grocery fulfillment and other forms of e-commerce.
In most e-commerce applications, order sequencing isn't critical. As long as you have a batch of orders ready when it's time to load the truck, it doesn't matter when those orders are picked. Sequencing and efficiency are more critical with e-grocery because you have more complex orders and a constant stream of pickups and deliveries throughout the day.
It's not unlike an engine assembly line. Orders must move methodically through the process, with completed orders being ready for pickup and delivery with the predictability of engines coming off the line.
Swisslog has had more success with automating e-grocery fulfillment than any other organization and one of the keys to that success is the fact that we blend e-commerce and industrial engineering principles when designing and configuring our solutions. That helps ensure our automation systems meet the demanding requirements of e-grocery while also creating opportunities for our customers to drive continuous improvement through industrial engineering.
3. E-grocery as a strategy driven by order volume
When automation first emerged as a viable option for e-grocery fulfillment, there was significant debate about where fulfillment should be located in relation to customers and stores. That debate has been settled: distribution strategy should be driven by order volume. This brings much-needed clarity to the development of e-grocery distribution strategies, with two main models emerging to meet the needs of most operators.
Store-Level MFCs are ideal for markets where order volumes by store are high and it's possible to bring automation directly to the store by adding an MFC. This scenario typically represents the fastest entry into the e-grocery automation space even if store modifications are required. It focuses on fulfilling products that represent about 90% of sales through the fulfillment center, avoiding the larger investments required for the final 10%, which can be picked from the store. It also minimizes transportation costs associated with order fulfillment.
EFCs can be used to support fulfillment across multiple retail locations, in addition to customer pickup and delivery, in markets where individual retail locations do not have the volume or available space to support MFCs. They allow fulfillment facilities and automation systems to be designed hand-in-hand and eliminate space limitations imposed by integrating automation into existing retail locations. EFCs also offer flexibility to tailor the distribution strategy to varying order volumes across stores in a particular market. However, they do create an extra layer of transportation that can add costs and more complex timing.
We are entering a very exciting stage in the evolution of e-grocery. As more grocers get real-world experience with automation technology, new best practices are emerging, and more sophisticated approaches are being adopted. There will be challenges along the way, but with the right automation partner and the right mindset you can overcome those challenges and implement automation solutions that enhance fulfillment speed, efficiency and predictability.
For more insights on offering and scaling e-grocery fulfillment, read the Swisslog white paper, The E-grocery Evolution: Moving Automation from Strategy to Execution. You can also subscribe to our blog to help you identify and overcome challenges you'll face as you move forward on your e-grocery journey. To connect with one of our specialists, contact Swisslog.
*This content brought to you in partnership with Swisslog*