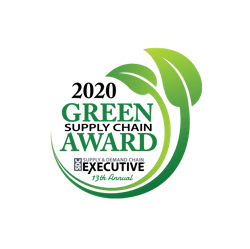 Supply & Demand Chain Executive is seeking nominations for its annual SDCE Green Awards.
The Green Supply Chain Awards recognize companies making green or sustainability a core part of their supply chain strategy, and are working to achieve measurable sustainability goals within their own operations and/or supply chains, in the areas of sourcing/procurement, fulfillment/logistics, operations, product lifecycle management, and other areas of the supply chain. The awards also recognize providers of supply chain solutions and services assisting their customers in achieving measurable sustainability goals.
To download a PDF copy of the survey for review, please click here. Please note, however, that all official entries must be submitted electronically through the survey. To submit for Supply & Demand Chain Executive's 2020 Green Supply Chain Awards, please click here.
The deadline for submissions is Friday, Sept. 11, 2020.
Should you have any questions, please contact Mackenna Moralez, web editor of Supply & Demand Chain Executive, at [email protected].